AIR-COOLED
SCROLL
PROCESS CHILLERS
AIR-COOLED
SEMI-HERMETIC
PROCESS CHILLERS
WATER-COOLED
SCROLL
PROCESS CHILLERS
WATER-COOLED
SEMI-HERMETIC
PROCESS CHILLERS
PORTABLE
AIR & WATER-COOLED
PROCESS CHILLERS
30 to 600 Gallons,
Stainless Steel &
Polyethelene Tanks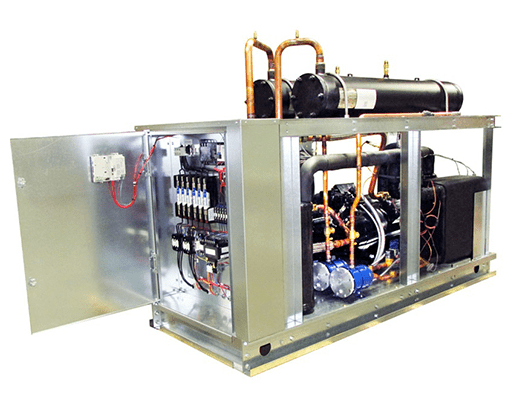 For More Information... Call Us Toll-Free at: 877-988-5464.
Load Run Testing and QC:

All Legacy production machines are run tested under load.

As part of
our state of the art QC process, all key operating points of each chiller are recorded on our testing system. Output reports from load testing is printed and shipped with every chiller. Once load testing is completed, each Legacy system is inspected and detailed in our QC department before shipping.
Please Note

:

Legacy Chiller Systems offers factory Start-Up Services

.
If you are interested, give us a call and find out more.

"STILL the Best Overall Process Chiller Value..."
What is Nexus Technology ? Our engineers have totally
re-engineered one of our most successful product lines to include
new cutting edge technologies. If your Mission Critical facility requires high levels of reliability and efficiency, Nexus
is designed to provide you with an unparalleled
lifetime value.
"Nexus Technology is the
perfect combination
of energy efficiency, reliability and innovation offering superior overall
value to our customers."
Martin P. King
President - CEO -
Legacy Chiller Systems, Inc.
Custom / OEM /
Private Label Chiller Manufacturing
Legacy understands that not all process cooling requirements fit standard
systems designs. For this reason, Legacy provides a wide range of

custom OEM design and manufacturing capabilities

.


Private Label Chillers:

For volume accounts, Legacy offers private label process chiller manufacturing agreements. If your company has been purchasing more than ten chillers per year, Legacy's private label program could double your current volume (and profit) in less than three years.
Extra Cooling Protection
for Your Process

!
Legacys' Auto City Water Change-Over Panels are an important addition for
critical cooling applications. Our Auto City Water Change-Over Panels automatically switch to city water upon a power outage or chiller fault.
Open Cabinet Showing
Optional Filter
AUTO CITY WATER
CHANGE-OVER PANELS