Legacy Chiller Systems, Inc., manufactures process chillers for all
industrial and commercial fluid cooling applications. Our chillers are specially engineered with components designed and built for mission critical
cooling applications and 24/7/365 service duty.
AIR-COOLED
SCROLL
PROCESS CHILLERS
AIR-COOLED
SEMI-HERMETIC
PROCESS CHILLERS
WATER-COOLED
SCROLL
PROCESS CHILLERS
WATER-COOLED
SEMI-HERMETIC
PROCESS CHILLERS
No Off-the-Shelf Chillers Here...


W

e B

u

ild to

YOUR

Specific Process Cool

i

ng

Requirements!
All Models come Standard with
our User-Friendly
HMI Touch Screen Display &
Pentra Microsmart, Programmable
Logic Controller (PLC).
PORTABLE
AIR & WATER-COOLED
PROCESS CHILLERS
30 to 600 Gallons,
Stainless Steel &
Polyethelene Tanks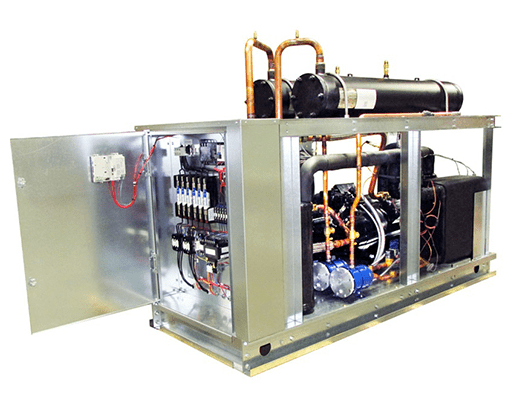 Legacy - HMI Touch Screen with built-in
Webserver, Trending, SD Card Storage and
Ethernet Port. Communicates
Seamlessly with the PLC.
Legacy - Pentra PLC with Expandable I/O Shown Above. With "Plug-In" Control Relays.
Air & Water-Cooled Process Chillers

•

Cooling Capacities: 1 to 91 Nominal Tons
We have compiled an in-depth market study comparing Legacy?s products to other
industry chiller manufacturers. It?s written in an easy to understand format to help both
new and experienced buyers of chiller equipment to make better informed decisions.


• Potential Markets for Process Chillers:

Outlines eight potential markets we consider
to be in high demand for process chillers.
• Process Chiller Duty Cycle:

covers the two major classifications (or duty cycles) that
describe how a process chiller is used.
• Air-Cooled and Water-Cooled Chillers:
explains the differences between air-cooled
chiller and water-cooled chillers.
• Common Process Cooling Configurations:

explains the differences between
once-through & recirculation and cooling configurations.
• Features Matter: Identifies key process chiller features known to increase the overall
reliability and extend life cycle.
• Controls Matter:

Details key microprocessor control features required by modern
process chillers.
• Process Chiller Scorecard:

An easy to use scorecard to help buyers compare
key features between process chiller brands being researched.
• Major Competitor Comparative Scorecard:

Available as a separate download,
compares key features between existing major process chiller manufacturers.
Process Chiller Buyer's Guide

Check Out Our
Legacy Patented
Chiller Economizer
Technology
Legacy Chiller Economizer Technology

is ideal for chillers operating in cooler climates across the U.S. and Canada. Legacy currently offers Integrated Economizer Technology on forty air-cooled and water-cooled condenser chiller models. These Integrated Economizer Systems can

reduce process cooling energy costs a much as 60%.
"STILL the Best Overall Process Chiller Value..."
Legacy Chiller Systems, Inc.


Control
Your Legacy Chiller
from Any Computer
on Your Network!

AUTO CITY WATER
CHANGE-OVER PANELS

Legacys' Auto City Water Change-Over Panels are an important addition for
critical cooling applications. Our Auto City Water Change-Over Panels automatically switch to city water upon a power outage or chiller fault.
Extra Cooling Protection
for Your Process

!
Open Cabinet Showing
Optional Filter
For More Information... Call Us Toll-Free at: 877-988-5464.